.fusion-fullwidth-1 {
padding-left: px !important;
padding-right: px !important;
}
Paul Coffey was born June 1, 1961 in Weston, Ontario, grew up in Malton, Ontario.  He is a retired ice hockey defenseman in the National Hockey League (NHL) and played for nine teams.  He is known for his speed and scoring.  Coffey ranks second to Ray Bourque in all-time career goals, assists and points.
Paul Coffey was drafted by the Edmonton Oilers in the 1980 NHL Entry Draft.  During the Edmonton Oilers first Stanley Cup winning season, 1983 – 1984, he became the second defenseman in NHL history to score 40 goals in a season.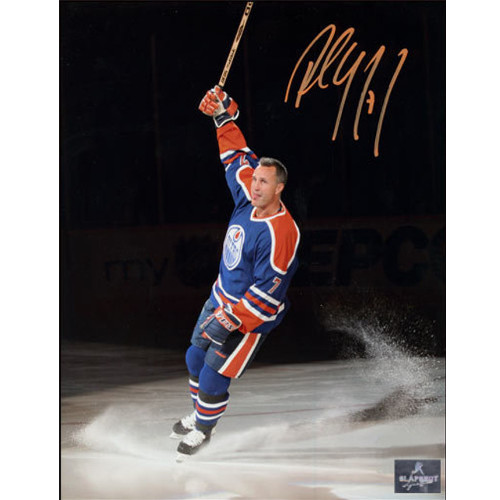 Coffey was traded to the Pittsburgh Penguins after a monetary dispute in 1987.  He changed his uniform number from 7 to 77, which he kept for the rest of his career (except for his final season in Boston – he wore number 74).
He was then traded to the Los Angeles Kings for a brief time (parts of two seasons), then to the Detroit Red Wings where he played for 3.5 seasons.  After a falling out, he was traded to the Hartford Whalers (1996 – 1997 season).  He only played 20 games and was traded to the Philadelphia Flyers where he played 1.5 seasons.  After only 10 games with the Chicago Blackhawks, he was traded to the Carolina Hurricanes where he played 1.5 seasons.  His final season (2000 – 2001) was played with the Boston Bruins.
Coffey retired after his 2000 – 2001 season finishing with 396 goals, 1,135 assists and 1,531 points.
He was voted into the Hockey Hall of Fame in 2004 and the Edmonton Oilers retired his jersey number 7 in 2005.
Coffey won the James Norris Memorial Trophy three times (awarded to NHL's top defense player annually); four times Stanley Cup Champion (three with Edmonton, one with Pittsburgh).  Named to Canada Cup All-Star Team and won the Canada Cup three times.  Also named to NHL's First All-Star Team four times and NHL's Second All-Star Team four times.  He played in NHL's All-Star Game 14 times.
Some of the NHL Records Paul Coffey holds are: most goals in one season by a defenseman (48 in 1985 – 1986); most short-handed goals in a season by a defenseman (9 in 1985 – 1986); most 70-assist season by a defenseman career (6 – shares record with Bobby Orr).
Have a look in our shop for a nice collection of Paul Coffey Memorabilia!
The post NHL Legend Defesneman Paul Coffey – Slap Shot Signatures Player Profile appeared first on Slapshot Signatures.